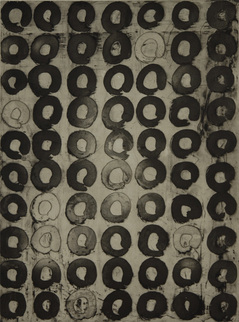 イギリス生まれ。イギリスに在住し、活動をしている。大きな版画と、自身の興味や経験から現れる絵画を制作している。
web,ブログなどのアドレスなど
【経歴】
I am an artist printmaker
currently based in the UK. I
have also worked on numerous feature films in the UK in the ArtDepartment including 'Moon'.
My work is in public and private collections in the UK, United States, Japan and
Iceland.
In 2011 I was accepted on artist residencies in Reykjavk, Iceland and Skagastrnd , Iceland.
I am interested in processes and materials and how they can be used to capture and
reflect gesture in mark marking. My work is informed by my own experience of
traveling and observing both natural and urban environments.
Education
& Training:
2008-10 University
of Hertfordshire, MA Fine Art and Applied Arts
1996-98 London
International Film School, Diploma in Film
1990-94 University
College London, BA Degree in History of Art
Group Exhibitions:
2011 SIM
Group Show/Residency Artists, Reykjavik, Iceland.
2011 Affordable
Art Fair, London with Hanga Ten Gallery.2011 'Smallprint:
Big Impression', Touring exhibition 2011 including New
Walk Museum Gallery, Leicester and MAC, Birmingham.
2011 20/21
Art Fair, RCA, London with Hanga Ten Gallery.
2010-11
'A4 Printmakers', Cornwall,
at The Open Space Gallery in Market Street,
Penryn 2010 and Newlyn Society of Artist's
PRINT! The Exchange Gallery,
Penzance, Cornwall 25th April - 7th May 2011.
2010 'Affordable
Art Fair', Battersea, London with Hanga Ten Gallery.
2010 'Originals
10', Mall Galleries, London,
2009 'UH
Galleries Open Exhibition', Margaret Harvey Gallery, University of Hertfordshire, St
Albans, UK
Film:
2008 'Nottingham,'
Universal, Draughtsman
2007 'Moon', Liberty Films, Art Director
2004 'Star
Wars: Ep III' (UK Reshoot), Lucasfilm, Art
Dept. Assist.
2003-04 'Batman Begins', Warner Bros., Jnr Draughtsman (Miniatures)
2003 'Proof',
Miramax, Junior Draughtsman
2003 'Love
& Honor', Disney, Junior Draughtsman
2002-03 'Troy', Warner Bros, Junior Draughtsman (Marine)
2002 'Exorcist:
The Beginning', Warner Bros., Jnr Draughtsman
2002 'Van
Helsing', Universal Pictures, Art
Dept. Assist. (U.K.)